Find us
If you have reserved housing in Aarhus through AU Housing, you can pick up your key and housing contract at: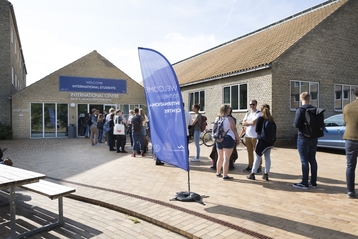 International Centre
Dale T. Mortensen Building
Høegh Guldbergsgade 4A
8000 Aarhus C
It is not possible to collect your key at your dorm or other addresses.
Opening hours
Normal opening hours:The office is open Monday - Friday from 12 noon - 2 pm.
Extended opening hours: from 15 January, 2024 -15 February, 2024 from 10am - 2pm, Monday - Friday.
Collect your key
You can collect your key from 1pm on the day your lease starts - see your housing offer email. However, if your lease starts on a Saturday, Sunday or public holiday, you can collect your key the first working day hereafter. If, for instance, your contract starts Sunday 1 January, you can pick up your key Monday 2 January or if your lease starts Sunday 15 January, you can pick up your key Monday 16 January.
If you arrive in the weekend or outside opening hours, you can ask a friend, your mentor, supervisor or contact person to collect your key within opening hours or you can book a room in a hostel for the first night/s.
Please send an e-mail to housing@au.dk to inform us if someone else is picking up your key.
How to find your dorm
You can use www.journeyplanner.dk to find a bus from the International Centre to your new home.
Travelling to Aarhus
Travel to Aarhus - possibilities for transportation from different destinations
You can pick up your key and leasing contract at the Reception, BTECH, Birk Centerpark 15, 7400 Herning. Office hours Monday-Thursday from 8am to 2pm, Friday from 8am to 12.30 noon. However, we always suggest that you contact Heidi Maibritt Trampedach Larsen - heidi@btech.au.dk to make an appointment for picking up your keys and leasing contract. If you arrive outside office hours you need to arrange short term accommodation yourself.
You have to contact Eva Lise Eriksen at eli@au.dk minimum two weeks before your arrive to arrange how and when to pick up your key and leasing contract. Keys can be picked up during normal office hours on weekdays only.