Job's paperwork: SU, taxes and paid holidays
You have finally found a job in Denmark? Congratulations! Now comes the paperwork…
In order to receive your payslips, you will need to log into your E-Boks, the email application linked to your MitID through which your company will send you those documents.
1) Apply for SU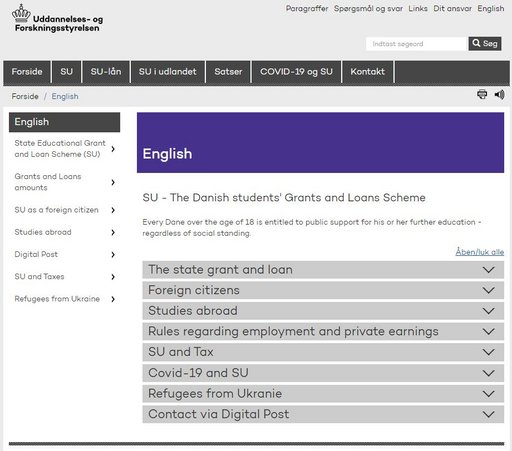 SU is the student grant for EU students enrolled in full-time higher education in Denmark, who are working at least 10 to 12 hours per week in the country. If you fit into this category and you are ready to work at least 10 weeks in a row (the minimum amount required to receive SU for the first time), you can apply for SU right away! If you're starting at your work on January 1st, the earliest you can apply for SU is the preceding December 1st. You can find all information here: https://studerende.au.dk/en/su.
The process needs to be done on the Danish page of the website, as the English one gives you the information but does not allow you to apply for SU.
Tips: on Google Chrome, you can translate the page into your native language by right clicking on the webpage and then choosing "translate to XX".
You need your MitID, work contract, and some other information to apply. Follow the link below and (without choosing the English version) click on "Log på minSU".
Then choose the first option: "Du kan søge om SU til en ny uddannelse eller ved genoptagelse." and "Søg SU: Her kan du søge om SU til en ny dansk uddannelse" on the next page. From here, it is up to you to fill in the right information by translating the form or through the help of a Danish speaker. If you don't know what a NemKonto account is when the question comes, refer to this article. You only need to request SU once by selecting the first complete month you started/will start your work on. It will automatically take into account your application for the proceeding months and this will continue until you stop your job (and then you also need to stop your SU).
Additionally, you have to fill in another form called "Application for equal status (foreign citizens)" to prove you are currently working. This time the questionnaire should be in English. This document is mandatory to complete your application. It does not matter if you still did not receive any pay slips at that time.
If it is not done already, you need to log into Digital Post, which is another email application to receive digital mail from public authorities. It is in this mailbox that you will receive your confirmation of the granting of SU and some other important information.
Please note you don't need to apply for SU every month and that you will normally receive the three first months of SU together, about one month after your application. Then you should receive it every month until you stop working. If that happens, think about calling the Tax Department to explain to them the change in your situation.
2) How the taxes work?
You should deal with the taxes right after having found a job, otherwise you will be taxed at a bigger rate (55%!!). This is even more important when you are planning to receive SU as you will be taxed on two "cards": card A (primary tax card, smaller rate) and card B (secondary tax card, bigger rate). In that case, you will have to choose on which card your salary should be taxed and on which the SU should be. The common advice is usually to ask for your salary to be taxed on the B card and the SU on the A card as the SU is generally bigger than your wage and therefore you will spend less money in taxes. You need to inform your employer of this change and write them a note to tell them to tax you on your B card.
The easy way to make sure you will pay the right amount of tax is to call the Tax Department and explain your situation to them. I was personally a bit stressed and confused but the staff on the other side of the line were very patient and helpful. Here is the phone number: (+45) 72 22 27 95. As explained above, contact the Tax Department again when you leave Denmark or stop your job.
3) How can I book my paid holidays?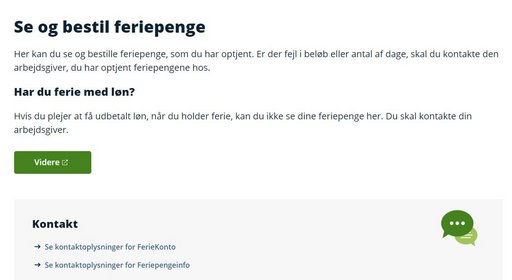 After a certain amount of work, you will accumulate some paid holidays. For those of you that receive SU, you are not supposed to take any (paid) holidays before minimum ten weeks of work.
To take holidays and see how many paid holidays you are entitled to, you can follow this link.
You will have to log in with your MitID at some point. Go to the menu in the top right corner. Select "Arbejde, dagpenge, ferie" and then "Hvem har ret til ferie?" and after "Husk dine feriepenge". From there, you can select "Bestil feriepenge" and use the automated Google Chrome translation to choose your dates and end the process.
4) SU holiday
As a worker in Denmark, you are entitled to 6 weeks of holiday. During these weeks you do not need to fulfil the 10-12 hours per week rule. However, your holidays must be documented. You do so by sending a Statement of Truth, signed and stamped by your employer. The Statement of Truth should include your name and CPR number, company name and its CVR, the period in which you take your holiday, and today's date. You then submit you Statement of Truth via SU.dk.
You can now have some well-deserved rest from all this paperwork!