Starting your own company as an international student
If you have a company idea and play with the thought of bringing it to life – even while you are still studying – the possibilities in Aarhus for doing so are bigger than you might think.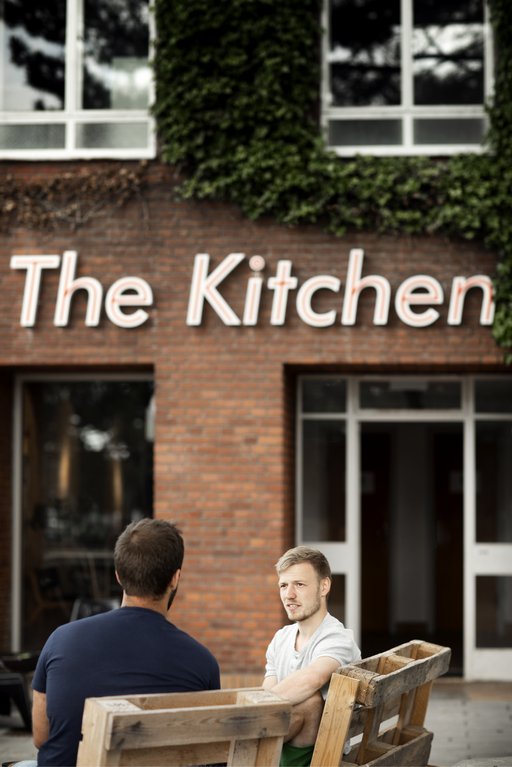 Founding or co-founding a startup is not only possible for basically every student, it is also encouraged and supported by the university, especially in business-related studies.
Aarhus has become a great ecosystem for startups with plenty of institutions to support you on your endeavours – both from the university's side and the municipality.
This article will provide you with first-hand insights on the possibilities you have as an international student to start your own business.
As a native German, I came to Aarhus in 2017 to study my full-degree Bachelor in Marketing & Management Communication at Aarhus BSS. Throughout my studies, I began to get a better and better picture of Danish work culture through the student jobs I had at different companies. My entrepreneurial journey started right after I finished my Bachelor's degree at Aarhus BSS as I founded a communications & marketing agency that helps Danish businesses to expand to the German market.
Digital infrastructure
The process of actually starting and running a company in Denmark is probably more convenient than you would find it in many other countries. The main factor for this is Denmark's advanced digital infrastructure. Everything from your tax statements to administration and bureaucratic procedures is handled online.
This means that you can practically register your company at home from your sofa…
One thing to keep in mind though is that some digital services and processes are only available in Danish, so here is another good reason for starting to learn Danish early on when you start studying in Aarhus – it will open you many doors, not only in relation to your job or company.
Join the entrepreneurial ecosystem
It will be a huge plus for you to step into Aarhus' entrepreneurial ecosystem – even if you haven't founded a company yet, it will give you a great network and tons of inspiration from other like-minded people you will meet.
In my opinion, the best first step for doing so is to become part of one of the city's startup incubators. By now, there are several ones across the city. Usually, these have a specific focus area. In my case, I joined The Kitchen (www.thekitchen.io) quite early on in the process. By becoming one of The Kitchen's 110+ startups, you will get access to a great and very supportive community with advisors, workshops, events, programmes to run through, options for funding and, of course, plenty of other entrepreneurs. It is probably worth mentioning that all this is usually for free if you are (or have been) a student at Aarhus University.
Support from Aarhus University
If you decide to start your company already while you are still in your Bachelor or Master studies, Aarhus University even offers different solutions to support you on this. A great support you can get is AU's dual career service. This support is designed to help you manage the workload that comes with running a business and studying simultaneously. You might, for example, get the possibility to reduce the ECTS-load per semester or get a "study buddy" who will help you with your exam preparation.
With the business degrees at Aarhus BSS, you can even do an internship in your own company instead of choosing elective courses in your electives semester. This is usually the last semester before you start writing your thesis.
It might be a common assumption that founding companies is only for people who study business. In reality, this really isn't the case.
By now, I have seen many highly interesting and successful startups here in town which have not been founded by business students. Be aware that you can always use the startup incubators to fill your "toolbox" with necessary entrepreneurship skills – whether it is administration, taxation, creating a business plan or other areas related to running a company.
Use your international background to your advantage
In many ways, having just started your studies in a foreign country is not the easiest and most convenient situation to be in when thinking about founding a company. For me, a good way to give the entrepreneurial journey a little head-start was to focus on the advantages that my German background brings to the table. Germany is Denmark's most important trading partner. There are lots of Danish companies that want to expand to Germany every year – but are missing the necessary cultural understanding and language aspects when approaching German customers. By focussing on such factors and using your international background to your advantage, you might find your competitive edge sooner than expected.
In my case, I found it to be very helpful to experience one or two Danish companies from the inside as a student worker to get a better understanding of the processes, the working culture and other hidden factors before starting my own company. Also, it will make it easier for you to build up a network which might be useful later on.
Not every company needs to be a startup…
It is good to keep in mind that you can practically start all kinds of businesses – not every idea and passion should be executed in the form of a startup. The points I mentioned in the previous sections are just as applicable for starting a freelance business, a small agency or a non-profit project.
Another quite common example you will find here in town is founding a "spin-out". This means you have a research-intensive idea that you usually dealt with in your study programme already. If this idea has become a uni project and now and you see that is has the potential to become an actual business, you would form a spin-out in collaboration with your professor at one of the incubators associated to Aarhus University.
Looking back, I think it is safe to say that I would always choose Denmark over Germany regarding both studying, working as an employee and founding your own company.
For me and many of my international friends here in Aarhus, the overall package of uni life, work life and social life makes it quite hard to leave Aarhus once you have settled here. Sometimes, it is worth-while to just jump into cold water – there is a lot to look forward to.