Ready, Set, Sail!
It was finally happening.
A sailing trip out to the Bellevue beach and Skødshoved (Mols) near Aarhus with my housemates at Hasle Ringvej. It was quite the occasion to start my first month in the city, and oh, I was stoked!
Our landlord Marni Nicalsen, who hails from the Faroe Islands, had planned this event around mid-August. We waited until some of our remaining friends moved into the house and did the trip together before classes began in September.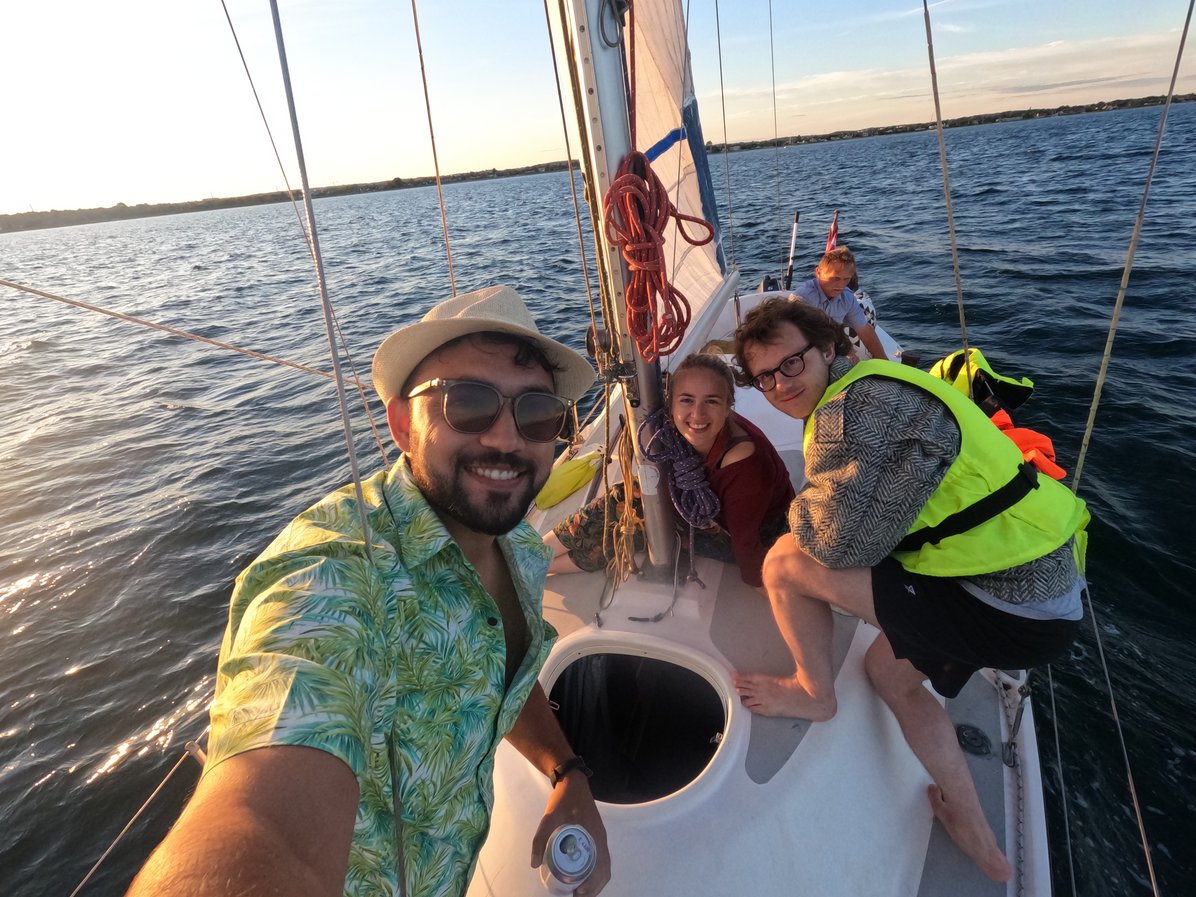 Every year, Marni organizes these trips for his new tenants to break the ice in the shared house.. We had been told that late autumn weather in Aarhus would be bleak , so we decided to set sail in the last week of August.
I remember vividly the grin on everyone's faces as we biked down to Nordhavn harbor. The weather was pleasant: there were blue skies with occasional breeze, which was not bad at all by Aarhus standards. With our moods lifted, we reached the harbor in no time.
We gathered at the dockside where Marni was frantically setting sail. And, there we were introduced to Hurley, a cute veteran boat from the 1970s, which had enough room (and a toilet!) for the seven of us.
"Welcome onboard! She may look small but she can sail on all the world's oceans," he said with a wink.
Only when we boarded the boat did we realize that Hurley was actually smaller than she appeared. Or probably, there were just too many of us. Marni guided us to our seating positions to balance the boat before we set sail. I took the bow (the front part of the boat and also, the most exposed) while the others moved to both sides of the deck and the rear stern.
For someone who comes from a landlocked mountainous country, sailing came by as a completely new experience. I really wanted to have a 360-degree view from upfront. As we passed by the docks in the harbor, I was thrilled to see the numerous vintage vessels carrying flags from all over Europe.
Lorenzo Canu, a fellow student from Italy, patted me from behind and offered a beer. I looked around to see everyone with beer in their hands. We toasted. It was perfect! This was exactly one of the reasons why I chose to live in a shared house in my first year: to be able to share such vivid memories with diverse people.
At the house, we were four fellow Erasmus students pursuing journalism (from Nepal, Norway, Italy and France) along with four others (from Spain, Belgium, Austria and the US) who belonged to a different programme on environment and soil science. Living in a shared space taught all of us to be disciplined and respectful of each other's space, habit and culture.
As we sailed further towards Skødshoved, strong winds caught the sail. In no time, our boat swayed with the rolling waters. I was drenched from the waist down since I sat on the front end. I pretentiously laughed it off even though I was honestly quite scared.
Marni reminded us that we needed to head towards calm waters if we wanted to swim for a bit. Fortunately, the weather was on our side. In about 10 minutes, the air cleared and we found a good spot to swim. Save a few, all of us head dived into the salty cold water for some rejuvenation. But it was so chilling that I did not even last five minutes there.
After the swim, we finished our snacks and drinks with Marni while he shared stories about his experiences living in the Faroe Islands and Denmark. Since the air was relatively calm, I took out my drone and captured some of the group moments. I almost crashed the drone as its sensor malfunctioned.. But with teamwork, we caught it safely.
It was the afternoon golden hour already and the silhouette of the Aarhus skyline overlooking the horizon looked extremely gorgeous. As it slowly got dark and chilly, we took the last sip of our beers for the road. We reached the dockside by dusk.
This sailing trip was more than just a casual day out; it was a sensational moment for me with new people in a new land. I will always cherish these good memories together with my housemates and highly recommend prospective students to consider shared living if you are up for some diverse experiences.