DANISH CINEMA 101
One of the things that many people do not know about Denmark is that Danish cinema is G R E A T.
I studied Film and Media Studies for my bachelor's back in Turkey and I quickly discovered that Danish cinema has one of the best and original films in the film history. It is not only me who says this, it is indeed the prestigious film festivals around the world such as Cannes Film Festival, Berlinale or Academy Awards mean it by their distribution of their awards. ;)
Besides, Danish cinema has been contributing to the collective history of cinema with numerous films ever since the beginning of the 20th century. Directors like Carl Theodor Dreyer and Benjamin Christensen are the most known and one of the greatest directors from the silent cinema epoch who developed a powerful narration with their films. In the modern era, filmmakers like Lars von Trier, Thomas Vinterberg, Susanne Bier and Lone Scherfig created and contributed to the avant-garde film movement Dogme 95, which shook all the ideas about making a film in the world. Meanwhile, Nicolas Winding Refn and Anders Thomas Jensen are also the filmmakers that one automatically thinks of with their very inventive characters and film universes when the topic is about contemporary Danish cinema.
Not only Danish films are mostly visually very original and instructed very nicely, but also most of the films have something to say about Danish society. Or Danish humor, which is very ironic. Therefore, I think that watching Danish films is a good way to get to know about Denmark and to get an understanding of cultural and social aspects of Denmark. Moreover, some of the films are such a classic that almost everyone knows about them. So, films are also a good conversation starter point when you are in a talk with a Danish person. ;)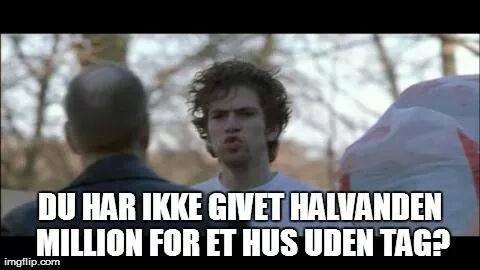 For instance, the meme above is from Anders Thomas Jensen's film Blinkende lygter, Stefan (Nikolaj Lie Kaas) saying to Torkild (Søren Pilmark) if he has paid 1.5 million Danish kroner for a house without a roof. :D This scene is such a classic!
Lastly, before we delve into films, I would like to make a note of the fact that Denmark is a small country, similarly, the film industry is also small in which there are some known directors that made the most classic films. That is why I may mention some directors several times, believe me, they are not boring and repetitive at all. Shall we start now? 🤓
** Blinkende Lygter (2000) by Anders Thomas Jensen
Denmark's one of the most original scriptwriters and filmmakers, Anders Thomas Jensen's film universes are almost always very absurd and funny. In Blinkende Lygter, we witness four criminal friends' escape journey from Copenhagen to a small village in Jutland, close to Fredericia. The criminal gang gets their hands on 4 million Danish kroner from their last heist and starts spending that money on the place they were hiding. While they try to keep everything a low profile towards the locals, they tell everyone that they bought the abandoned house without a roof that they are lodging to open a restaurant. Although they were to keep everything secretive, their secrets start revealing when they make local friends.
Blinkende Lygter is already a classical Danish film but the film also includes itself very stereotypical elements from Danish literature and TV series.
Blinkende Lygter (2000) directed by Andres Thomas Jensen
** Festen (1998) directed by Thomas Vinterberg
Festen is the very first film of avant-garde film movement Dogme 95 after declaration of the manifesto The Vow of Chastity in 1995 by Lars von Trier, Thomas Vinterberg, Kristian Levring and Søren Kragh-Jacobsen. To understand the film, firstly, I think that it is good to know the technical filming principles of the movement before passing to plot of the film. J
Director, Thomas Vinterberg shot the film on a location, which means there were no props and sets during filming. The sound was only recorded while shooting the film, so there is no additional sound or music in the film. The featuring music in the film recorded indeed during the film set. Moreover, Vinterberg used a hand-held camera while shooting film to give a sense of naturalist approach to the story. In other words, making the film as natural as possible.
Festen tells the story of a family that gathers to their father's Helge (Henning Moritzen) 60th birthday. At dinner, the eldest son Christian (Ulrich Thomsen) publicly accuses his father of abusing his twin sibling, who committed suicide. Then, a big family drama commences and dark secrets hidden in the past unveil.
Both scenario-wise but also filming-wise, Festen got a big recognition from prestigious film festivals.
Festen 1998 directed by Thomas Vinterberg
** Druk (2020) directed by Thomas Vinterberg
We have started the list with Thomas Vinterberg's first film and closing it with his last film. Druk has definitely become one of the most classic Danish films with the tradition of being a student, which means graduating high school and so much partying. In other words, Druk is a film about celebration of life and Danish drinking culture. More importantly, the film is based on the thoughts of Norwegian philosopher Finn Skårderud who believes that humans are born with a blood alcohol level that is 0.5 too low. Therefore, the film consists of many drinking scenes and both adults' and young people's experience with alcohol.
Then, our main four protagonists that are high school teachers, played by Mads Mikkelsen, Thomas Bo Larsen, Magnus Millang and Lars Ranthe decide to start an experiment inspired by Skårderud. They decide to hit a blood alcohol level of 0.5 every day and during working hours. The more they drink, the more they feel confident. However, excessive alcohol consumption also has consequences. Nevertheless, life is just a celebration, which we need to enjoy.
Druk (2020) directed by Thomas Vinterberg
** Italiensk for begyndere (2000) directed by Lone Scherfig
In contrast to most Dogme films, which are serious and harsh in tone, Italiensk for begyndere is a romantic comedy. It is almost a feel good Dogme film, while style-wise is sticking with the Dogme principles including the usage of handheld video cameras and natural lighting.
Italiensk for begyndere is about substitute priest Andreas gets his case when he meets Olympia during the funeral of her father. Olympia is a neglected and cautious girl who hungers for company with other people. She gets that now, because the vicar is sweet and listens by nature, and he probably also has a bit of a crush on Olympia. However, Olympia is not the only one who seeks spiritual guidance from the priest. Jørgen Mortensen is a somewhat naive hotel porter who has fallen head over heels in love with an Italian girl but suffers from impotence. As fate would have it, the beautiful Italian cannot stand for Jørgen Mortensen either. What brings all these people is the Italian class that they take in the evening and their trip to Italy.
Italiensk for begyndere (2000) directed by Lone Scherfig
All in all, Danish cinema has amazing films and the directors I have mentioned have other great films as well. I know that four film recommendation is not at all enough, thus, I am going to leave some more suggestions for those who need more than four films ;)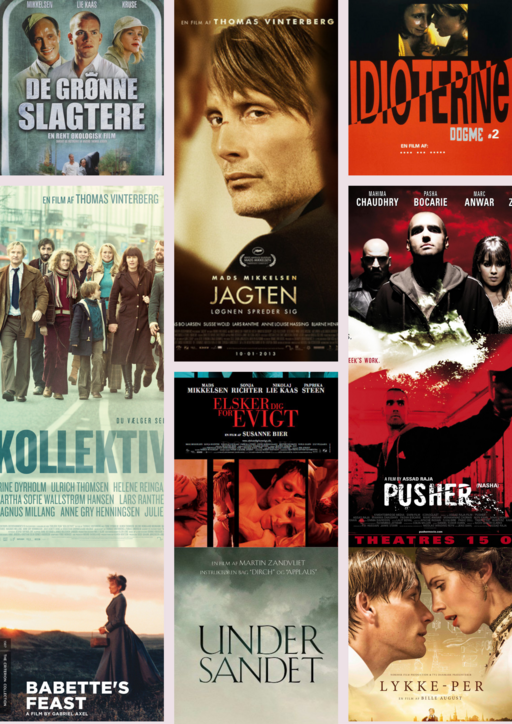 Anders Thomas Jensen – De grønne slagtere (2003)
Gabriel Axel – Babettes gæstebud (1987)
Lars von Trier- Idioterne (1998)
Thomas Vinterberg – Kollektivet (2016)
Ole Christian Madsen – Flammen & Citronen (2008)
Bille August – Lykke-Per (2018)
Susanne Bier – Elsker dig for evigt (2002)
Thomas Vinterberg – Jagten (2012)
Martin Zandvliet – Under sandet (2015)
Nicolas Winding Refn – Pusher (1996)
---