Christmas in Aarhus
On the first day of Christmas, my true love gave to me… An awesome blog post about how to make the most of the festive season in the City of Smiles 🎄
It's that time of year! The time when your student budget has you claiming that the fairy lights you have year-round are in fact a Christmas decoration, and the time where every trip home after classes involves convincing yourself that you should buy a chocolate snowman to treat yourself (and you most definitely should!). I love Christmas, and there is a reason that so many TikToks about the magic of Danish Christmas are floating around right now. I hope you are reading this article with Mariah Carey blasting in the background and your fairy lights twinkling, as I intend to cover everything from where best to get into the Christmas spirit in the city, to how to make the most of Christmas if you can't go home for it ✨
Black Friday
This might be an American tradition more than a Danish one, but it has spread across the pond and is a great way to get your Christmas gifts for cheaper prices! Black Friday is the one day a year when almost every high street store offers deals and discounts on their products, both online and in-person. Some stores start their Black Friday deals at midnight, whereas others only start when the physical stores open. You can get a few deals in the supermarkets, but people usually aim for bigger discounts on more expensive products such as clothing and technology.
If you have a store whose Black Friday deals you are particularly interested in, then I recommend signing up for their newsletter ASAP (you can always unsubscribe later). A lot of stores give previews or early access to their newsletter subscribers, so this is the best way to stay in the loop if you have your eye on a specific pair of new headphones, or something particular to complete someone else's Christmas wish list. Stores can get VERY busy on Black Friday though, so stick to online shopping if you aren't a fan of crowds. A lot of places continue offers over the weekend and into the following Monday (Cyber Weekend and Cyber Monday) too, so if you want to go shopping in person, then that's always a good option if you aren't fussed about being first in line for the best deals.
Danish Christmas Traditions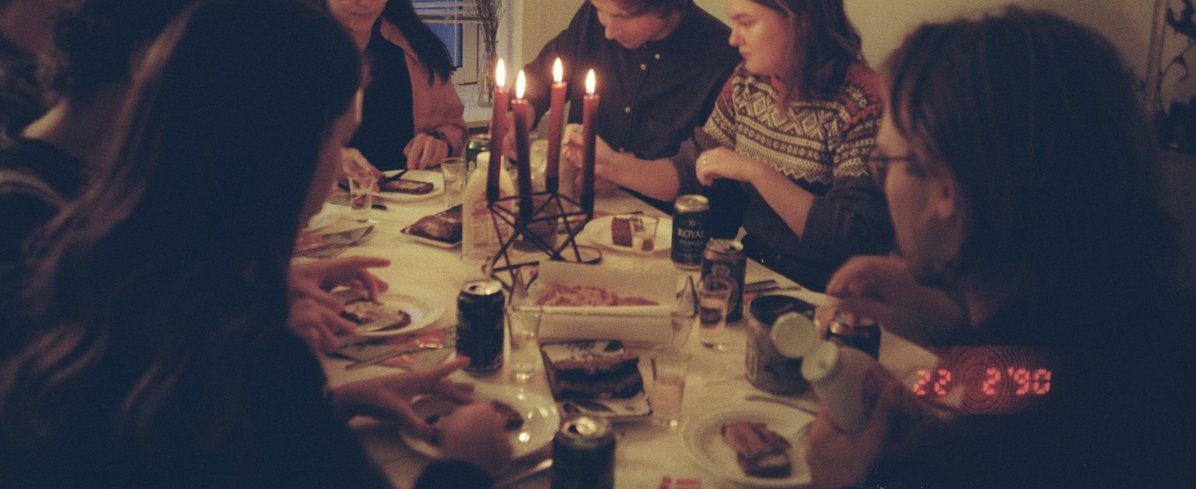 The first thing to know about Christmas in Denmark, is that it is usually celebrated on Christmas Eve (24th December). This might be normal in a lot of mainland Europe, but for people from further afar, this can be a bit strange. The main celebrations are also in the evening, featuring a big Christmas dinner which typically consists of roast pork and/or duck, potatoes, red cabbage and gravy. Risalamande is a classic Christmas dessert of rice pudding with cherry sauce, with a whole almond hidden inside (what else?). The person who finds the almond in their dessert usually gets a prize or extra present 🎁 If you want to sample some traditional Danish Christmas food before the big day though, you can usually get specialities such as gløgg (warm and sweet mulled wine) and æbleskiver (icing sugar sprinkled, fried mini doughnuts) in the supermarkets from around November. If you live in a dorm, it is pretty likely that a Christmas dinner will be held with almost all of these Danish Christmas specialities.
Danish Christmas has a lot of things which are a bit more of a culture shock to foreigners than some different foods though. If you spend Christmas at a Dane's house, you might have to take part in holding hands and dancing around the Christmas tree, and earlier in the month on 13th December, there's a chance you'll see a Luciadag parade of children dressed all in white holding candles at various schools and churches around the country.
If you live in a dorm with Danes, you probably won't escape the Christmas spirit no matter how hard you try. Regardless of religion, most Danes celebrate Christmas. Julehjerter (Christmas hearts) are an adorable Christmas decoration that almost every dorm makes together, and the aforementioned Christmas dinner is almost impossible to escape. Not that you'd want to miss an opportunity for peak Christmas hygge 😉
Christmas Markets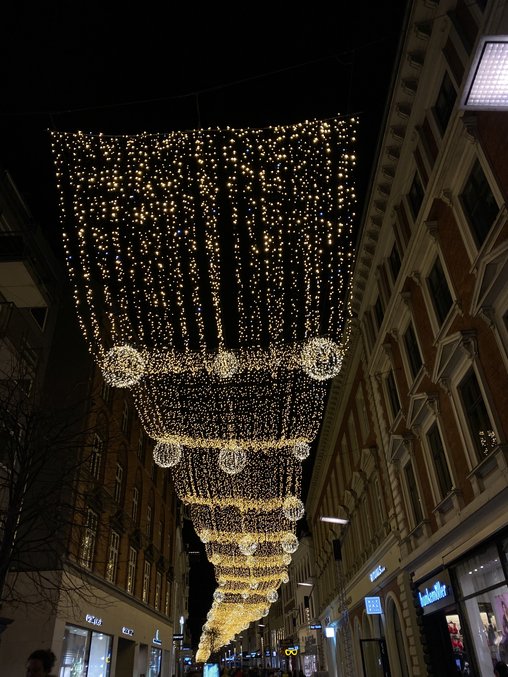 The Christmas lights are already up along Strøget, so it is fair to say that the Christmas spirit has hit Aarhus already! We have so many Christmas markets around the city for you to explore, to enjoy hygge vibes with friends, or to buy a unique gift for someone special. My top recommendations are (google for individual prices and opening hours):
Tivoli Friheden – my favourite place to feel Christmas magic in Aarhus! They have the most amazing lights and decorations, an ice-skating rink, and you can even meet Julemanden ("The Christmas Man"/Father Christmas) at his Christmas grotto.

Den Gamle By – the best way to experience a traditional Danish Christmas and all its traditions.

Ridehuset – a proper Christmas market, and it's inside, so you might still have feeling in your hands by the end of it. There's a cosy café, Christmas music, and over 80 stalls selling handmade crafts.

Godsbanen – for the creatives! This Christmas market features a lot of handcrafted unique items for sale, and there are fun workshops to make your own Christmas decorations there too.

Local markets – sometimes the smaller markets can be the most fun, especially if you want to do something different! To check out some of the options, take a look at this list:

https://www.visitaarhus.com/aarhus-region/plan-your-trip/local-christmas-markets-aarhus-gdk1114015

❄
Christmas Away From Home
I have both spent Christmas alone during the pandemic, and away from my family during my study exchange. It is different, there is no denying it, but it can be a really memorable Christmas for you if you make a little effort. If you are planning to spend Christmas alone, then make it personalised exactly for you. Cook the food that you want to eat – cut out the vegetables, only eat dessert, eat a pizza. It's your Christmas, and it can be as traditional or crazy as you like! Arrange in advance a time to video call your friends and/or family, and maybe pick some cosy Christmas films to watch. It might not be your ideal Christmas, but it isn't forever, and you should try to make the most out of it if you can.
If you are spending Christmas with friends, then this is another amazing experience you can make the most out of! Again, make Christmas what you want it to be. Christmas is a time to be happy, whatever that may mean to you. If you are spending Christmas alone, and really don't want to be, then there are options to spend part of the day with other people who may also want some company. This could be through volunteering with a charity, joining a church service, or asking friends who are also planning to be alone if they would like to join you for part of the day. This is only one Christmas out of many, so don't despair if it isn't your best one – that's just even more reason to make next year extra special ❤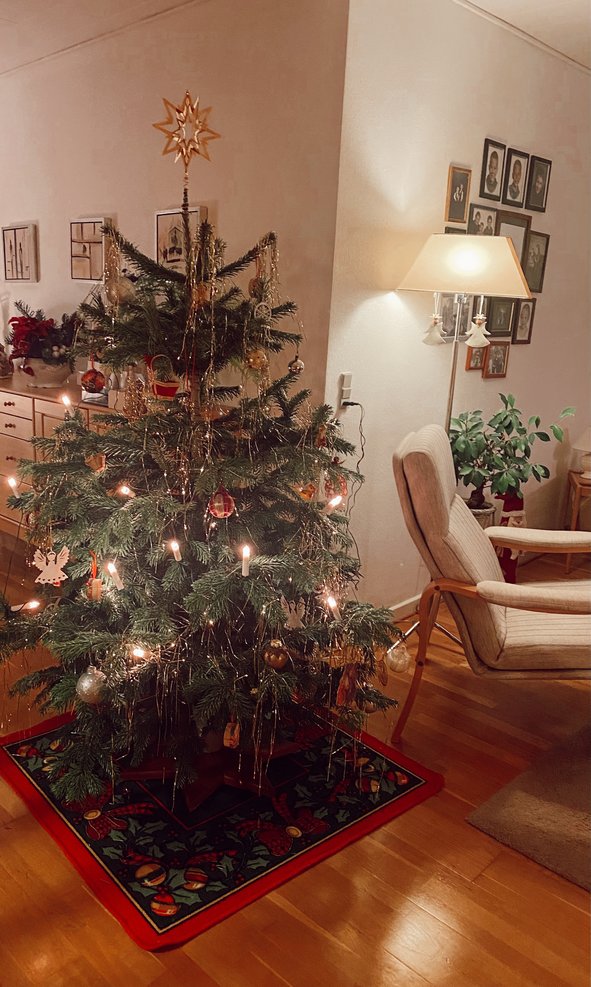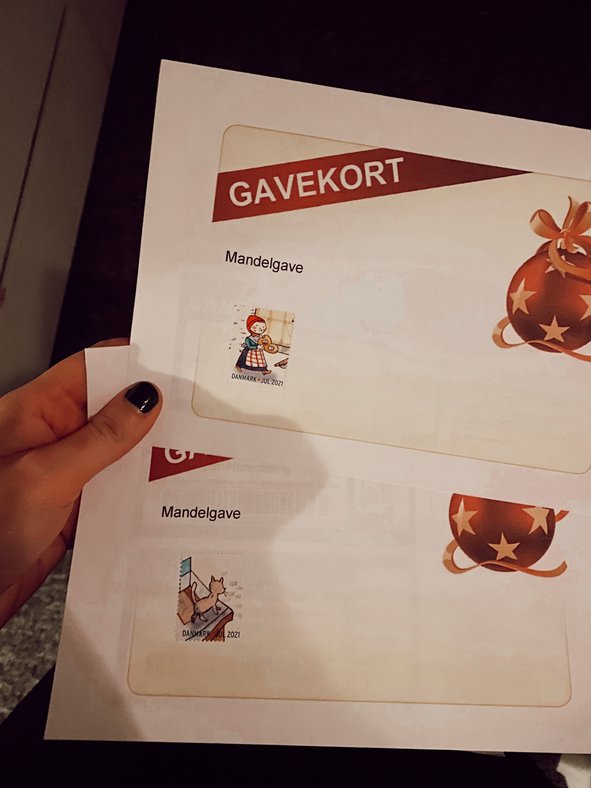 Okay, my Christmas playlist has already played through twice while writing this article, so I am going to stop now and go get myself a chocolate snowman. Crank up the Christmas tunes, whack on the fairy lights, and get planning your Danish Christmas - god jul! 🎅🤶