How to find Indian food in Aarhus
Indians are famously known to take their kitchen along when they move abroad, and I was no exception! However, the check-in baggage allowance only allowed me to bring so much along when I moved to Aarhus from Bangalore.
Providing for the Indian in me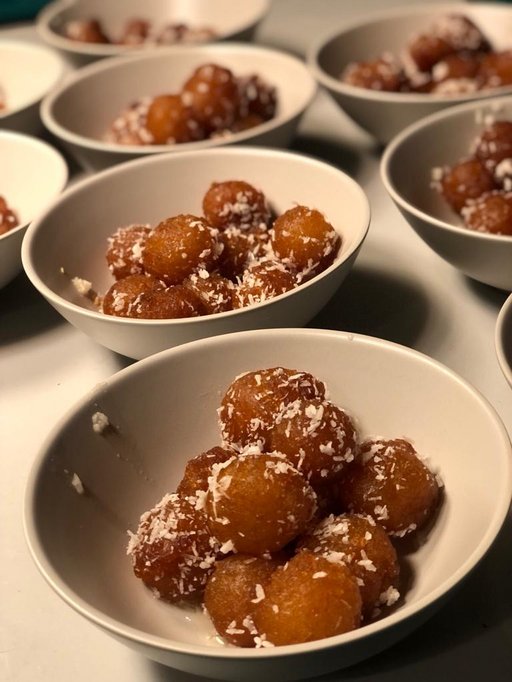 Indians are famously known to take their kitchen along when they move abroad, and I was no exception! However, the check-in baggage allowance only allowed me to bring so much along when I moved to Aarhus from Bangalore. I am a passionate cook and call myself an absolute gastronome. One of my objectives when moving to Europe was to cook with locally sourced ingredients, experiment with the wide variety of cuisines, and learn about different dishes from my international friends. However, I knew that even with all the experimenting, I would still be unable to abstain from consuming Indian food. One week after arriving to Aarhus, I began my search for Indian ingredients. I was pleasantly surprised at how easy it was to source Indian ingredients and with the choice of restaurants across the city.
Indian restaurants in Aarhus
The cuisine choice at these restaurants ranges from south Indian to Punjabi. One will also get to savour Biryani Chaats, Gulab Jamoon, Gajar Halwa and Kheer in some of them. The restaurants you will find in Aarhus are:
The South Indian
Indian Curry House
Pearl India
Masala – Indian Take Away and Restaurant
Indisk
Indisk – Aarhus Street Food
Cuisine – Aarhus Street Food
Ammis – butterchicken
Restaurant Zafran
Indian Mihra Punjabi
Everest kitchen – Street Food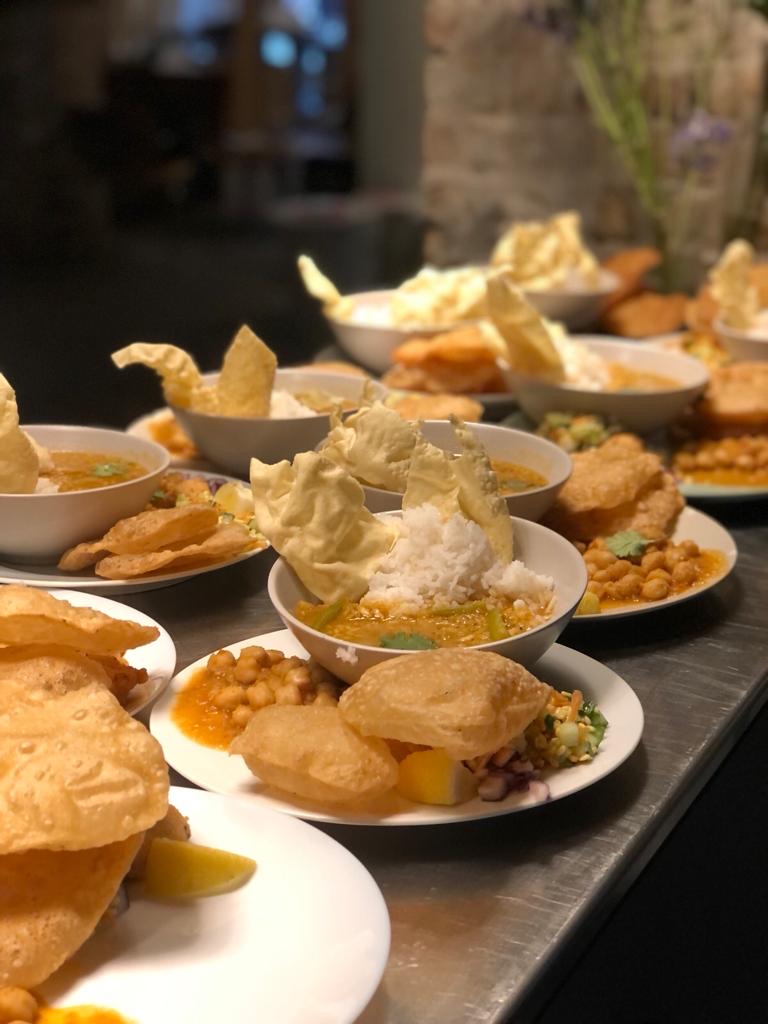 All of them are located in Aarhus C except for Indian Mihra Punjabi, which is located within Bazaar Vest in Aarhus V. I could easily find them with google maps. It is good to note that they are reachable by public transport, as it so happened once that I could not cycle back after a sumptuous meal!. When I am looking for something easy on the wallet, or I'm not in a mood to go sit in a restaurant, I order an Indian 'mealboks' or 'buffetboks' on TooGoodToGo – an app that restaurants can use to fight food waste by selling any unsold food very cheaply at the end of the day. Although I do not get to choose the dishes, I like being surprised with the meal items. Most only serve dinner and are open from around 17:00 until 21:00 or 22:00. Restaurant Zafran and the places at Aarhus Street Food are also open for lunch from around 11:30. The outlets at Aarhus Street Food are definitely wallet-friendly J. For most places, I could walk in any time on a weekday, but for weekends I make sure to call ahead and book, as Indians are not the only fans of Indian food. I was pretty amazed as to how much the Danes enjoy Indian food. The World Kitchen, which takes place every Tuesday at Ungdomkulturhuset (UKH), hosts Indian dinner nights. There is no specific set date, but one can look it up on Facebook or Instagram. There usually is at least one Indian dinner night every semester, and it is a delight to be part of the event.
Cooking at home and finding Indian ingredients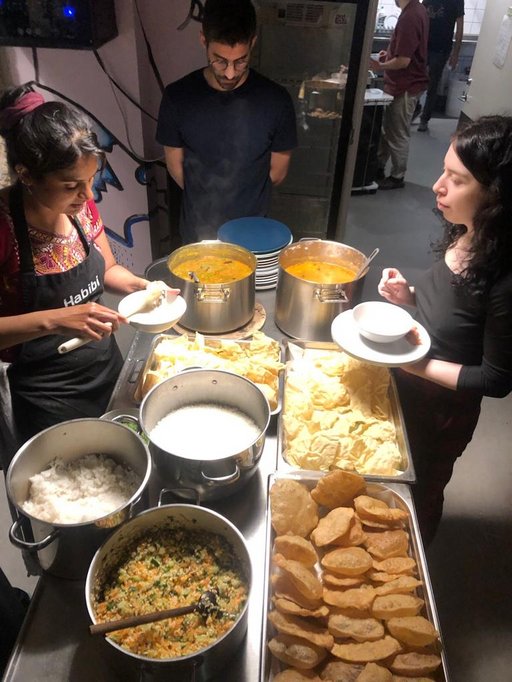 The choice of Indian restaurants, as you can see, are plentiful in Aarhus, and the prices are competitive too. However, I do find them expensive if I would have to eat out every night. Occasional visits to the restaurants are enjoyable but otherwise, I always preferred to cook meals in a well-equipped shared kitchen in my dorm. It worked out a lot cheaper to cook by myself with all the ingredients. One would think sourcing ingredients could be a task. However, that has never been an issue. Østens Specialiteter near the train station, the Asian Food Store in Bazaar Vest and the vegetable market within Bazaar Vest offered almost every item I would need to cook my meals. From atta for chapathi to mango pickle, all varieties of dal and rice to asafoetida, the many different masala powders - these stores have it all. I could even find jackfruit, raw banana, okra (bhindi) and bittergourd at the vegetable market in Bazaar Vest! This is the place to get the flavorsome green chillies too. When you go shopping in these stores, make sure to carry an airtight container as they also offer fresh Jamoon, Jalebi, Rasgulla and Samosa.
One of the first things that amused me upon my arrival in my dorm was how much my Danish roommates used turmeric, coriander powder, cumin powder, cinnamon and 'curry powder.' Having explored all supermarkets in the past year, I found that Super Brugsen and Coop365 have more options when it comes to Indian ingredients. They store dal (masoor and toor), channa (chickpeas), rajma (red and black beans), rice (jasmine, basmati, parboiled), and almost all the spices. Sometimes you might even find ready-to-eat chicken curry and fish curry meal boxes. The tortilla wraps available across all supermarkets are a good replacement for chapathi or roti.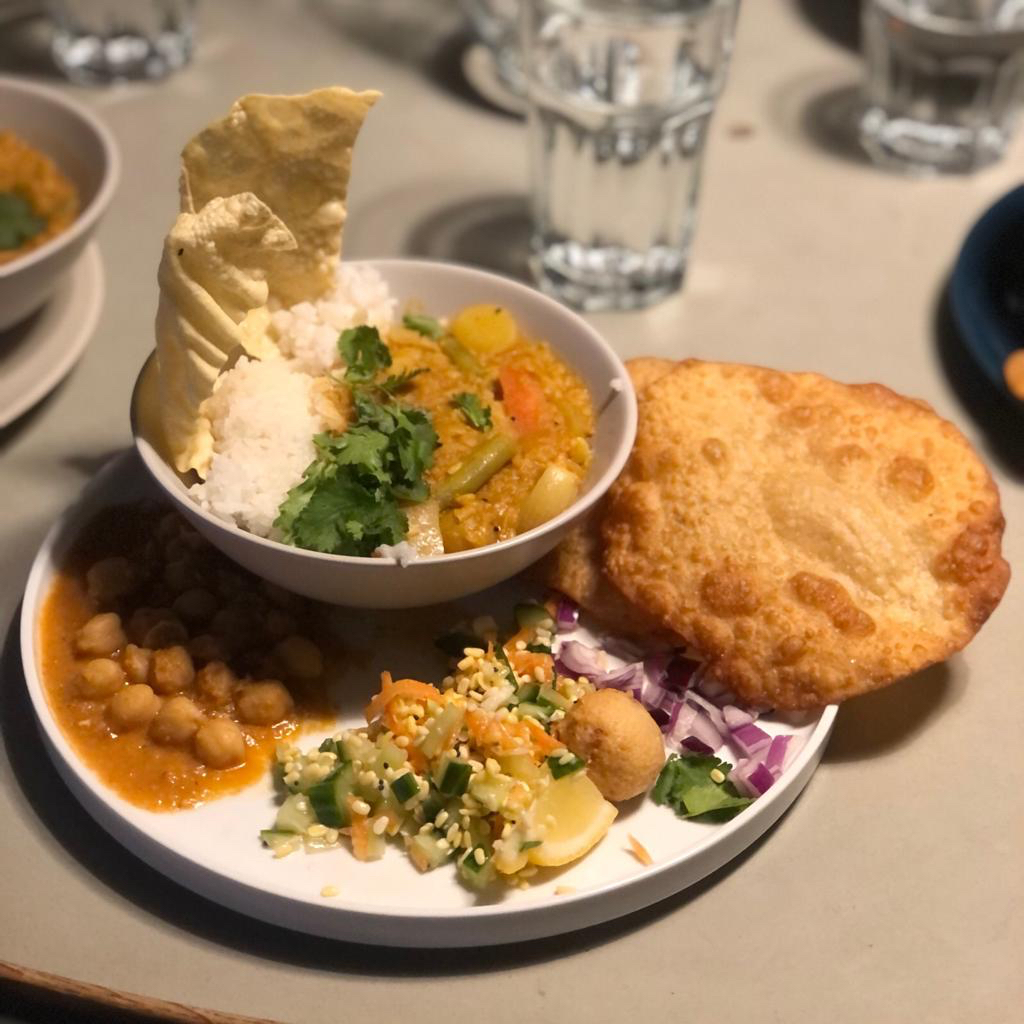 With a part-time job, working 10-12 hours a week, I have been able to cover all my food expenses, be it eating out or buying ingredients. The absence of home food has never once made me homesick, as I could make almost anything here. I only carried a pressure cooker when I flew to Aarhus and found everything else here.
Rest assured, Aarhus has generously satisfied my Indian palate.