What to pack before coming to Aarhus
Perhaps you have heard of this phrase while you were doing research on Denmark and its famous weather. There is no such thing as bad weather, only bad clothes. This indeed represents the daily life in Denmark.
Der findes ikke dårligt vejr kun dårlig påklædning.
Perhaps you have heard of this phrase while you were doing research on Denmark and its famous weather. There is no such thing as bad weather, only bad clothes. This indeed represents the daily life in Denmark. The weather in Denmark changes a lot; it may rain very suddenly on a lovely sunny summer day. You may end up experiencing two seasons in one day. This may sound a bit frustrating, but you sort this issue out with good clothes and layering.
I come from Istanbul, Turkey and I used to plan my daily life and meeting according to the weather forecast. Ever since I moved to Denmark, this is not the case at all. The weather is mostly rainy and cloudy throughout the year, and obviously, this cannot hinder your social life and everything. You just bear the fact and wear accordingly. That is why it is important to pack cleverly before arriving to Aarhus. :-)
1- Layering: Most Danes would say that layering is the most important rule of clothing. For instance, during wintertime, the weather is cold outside but not at university buildings or at cafés. So, in order to avoid clothing and sweating problem, wearing a sweater, and underneath that, wearing a t-shirt would be the good solution. Alternatively, wearing a t-shirt and on top of that, wearing a cardigan. I still think this is the case for summer evenings as well. Although it is sunny and warm during the day, in the evenings it may be cooler and windy. That is why brining a sweater, or a light jacket would be the cleverest idea. If you make 'layering' your life motto in Denmark, you are in safe hands.
2- Umbrella: Rain, rain and rain. We just accept this fact and continue enjoying life in Denmark. However, carrying an umbrella is always a good idea to fight with unexpected rain. If you are lazy to carry and hold an umbrella, maybe looking for a waterproof hat might be your go-to.
3- Waterproof equipment: First of all, I think the most crucial two things to have in Denmark are indeed a raincoat and a waterproof backpack. Bringing these from your come country might be a clever thing if you do not want to spend money in Denmark. However, I must say that Danish brands have good waterproof backpacks, raincoats and equipment. Especially Aarhus-based brand Rains is very good with all of these. Some people also prefer wearing rain pants if they are biking on rainy days. Even the Queen Margrethe II of Denmark takes waterproof clothing seriously. 😉
4- Wool-thick socks: Bringing wool-thick socks is great idea for fall and winter. Although I would recommend you bring leather boots, you simply cannot wear them during the whole year. You will want to wear sneakers as well and at that instance, wool-thick socks will save your life. They are both very cozy and nice but also, they will give you more options about what kind of shoes you can wear. Alternatively, I would also suggest you bring 'hygge socks' which are also thick but also soft, perfect for home wear.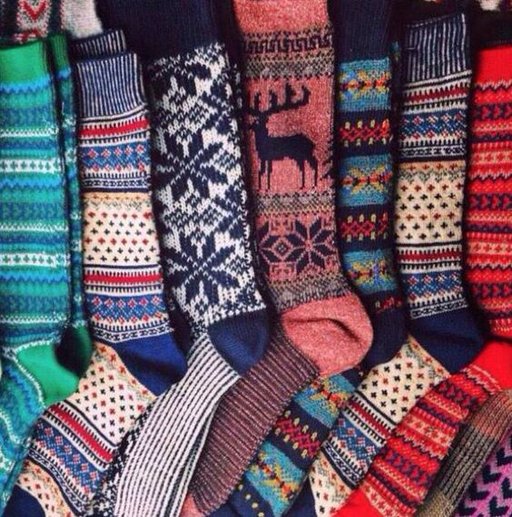 5- Gloves, beanie and scarf: In this section, the must-have is definitely gloves. I was not a big fan of wearing gloves before but after moving to Denmark, it became one of the things that I needed to get use to wearing. Beanie and scarf are also must-have since it can be windy most of the year.
6- Bring seasonal clothes: The weather in Denmark is not only cold, rainy and windy. It is a bit of everything and therefore it is important to bring seasonal clothes. If you only bring very thick clothes, you may need lighter and thinner clothes for fall and spring. From my personal experience, I kept wearing t-shirts and thin clothes until the end of October last year. Certainly, do not forget to bring some thick sweaters as well; you will also need them. Sweaters, a windbreaker, a light jacket, a winter jacket, a leather jacket are potential options to bring with.
7- Lip balm and hand cream: Although you can buy these when you arrive to Denmark, keep in mind that Denmark's weather make you use more of hand creams and lip balms. The wind and dry weather also dry your skin. That's why keep always in mind to moisturize your skin.
8- Medicine: When you move to Denmark, it will take some time to register with your doctor. Therefore, if you use prescribed medicine make sure to bring some extra with you. Besides, bring along medicines for the flu and the cold which works for you. Common cold and cough are not considered as severe to use medications in Denmark. Plus, medicine for the flu and cough costs way less in Turkey, that's why I always bring them from my home country. However, make sure that you do not exceed any limits and check the customs office about how much you can bring with you.
9- Spices and special ingredients: When the topic come to spices and special ingredients, almost everyone is fond of their home country's spices. I have been there and brought so many spices with me. If you think that you cannot do without X spice, maybe bringing it with you is the best. I know that many fellow Indian students bring lots of curry with them. 😊
10- Extra glasses/lenses: Glasses are expensive in Denmark and are not covered by public health system. They are only covered at some percentage if you have a private health insurance but most of the cases, one cannot immediately expect to get the maximum of benefits from the insurance. If you like playing safely, bring extra glasses or lenses.
11- Bring something that makes you remember home: It is very important to create the 'home' feeling at your new home, in Denmark. Therefore, bringing an object that you are attached with or has a special meaning for you, or some photos of your family and friends would make you feel warmth in your new room.
If you have pretty much all of these, you will land to Aarhus safe and sound. Just remember to make layered clothing as your life motto. Then, you are good. 😉