The CaP group presented important research at the Ca-PRI 2018 conference
Eight CaP researchers went to Groningen in Holland in April 2018 to elaborate on the latest research results. Linda Aagaard Rasmussen won the award for best oral presentation.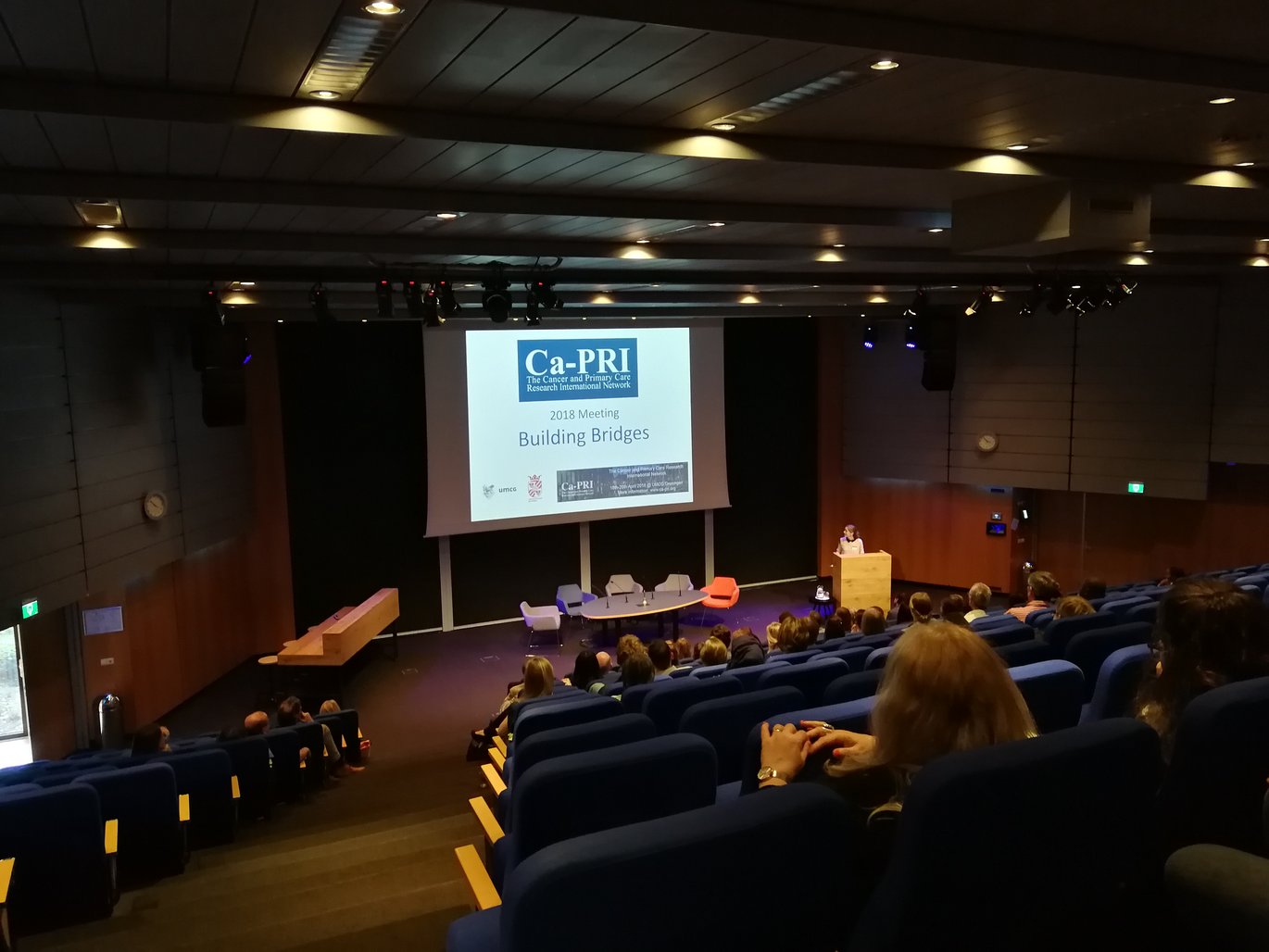 Overview of the results presented:
Linda Aagaard Rasmussen, oral presentation
Activity in general practice preceding a diagnosis of cancer recurrence
The study found that patients with recurrence of breast and bladder cancer have increasing activity in general practice from seven months before a diagnosis of recurrence, and 2-3 contacts in the last month. Bladder cancer patients with recurrence had more urine tests in general practice compared to bladder cancer survivors in remission, almost throughout the entire year preceding recurrence. Thus, general practice plays an important role in identifying recurrence, and the diagnostic window seven months prior to recurrence may provide an opportunity for more timely diagnosis of cancer recurrence.
Nanna Holt Jessen, E-poster (short oral presentation)
Investigations in the year preceding a diagnosis of an abdominal cancer
The study showed that the proportion of abdominal cancer patients with at least one abdominal investigation (transvaginal ultrasound, abdominal ultrasound, colonoscopy and gastroscopy) performed in the year prior to diagnosis varies across cancer types, and so do the distribution of the investigations. The results are preliminary and need further indepth analysis, but may in future provide new important knowledge to optimize diagnostic strategies for patients presenting in general practice with abdominal symptoms.
Line Hvidberg, oral presentation
When the GP has a cancer suspicion at first presentation. Which patients are not urgently referred?
I had a short oral presentation entitled "When the GP has a cancer suspicion at first presentation. Which patients are not urgently referred?". The presentation was based on data collected from Danish cancer patients and their general practitioner (GP) and focused on patients for whom the GP had stated that a cancer suspicion was raised at first consultation. Among this group, 68% of patients were urgently referred and 32% was non-urgently referred. We found that there was large variation in urgent referrals across cancer types, e.g. lung cancer patients had a much higher chance of not being urgently referred after a suspicion was raised compared to colorectal cancer patients (PR = 2.72 (95%CI 1.99-3.71)).
Sara Marie Hebsgaard Offersen, Line Flytkjær Virgilsen, workshop
The Long and Winding Road? exploring the impact of distance on cancer experiences
This international workhop focused on the impact of distance on cancer diagnostics and outcome. Using the method "mind-mapping", the importance of interdisciplinary studies became clear. We need qualitative and anthropological studies to investigate what "distance" really is for citizens who seek help for symptoms of cancer.
Rikke Sand Andersen, workshop
The 'we' in patient-doctor communications
The presentation showed how ongoing changes in primary care (e.g. triage as a local manifestation of increasing demands for effectiveness and transparency) result in leaking professional boundaries. Secretaries play an important part in the diagnostic process, and when exploring communication in general practice, we should be careful to pay attention to all potential actors involved, and the embedded nature of their interaction.
Henry Jensen, oral presentation
Cancer suspicion and usual consultation frequency
The study shows that overall, the GP do suspect cancer more often when seeing non-attenders than when seeing more regular attenders. However, the patient's age modifies the GP's suspicion of cancer, with a lower suspicion of cancer in patients <55 years of age. This may lead to missed opportunities to diagnose cancer as timely as possible. Therefore, GPs should facilitate the presentation of the complexities of rare consulters' medical problems among "young" patients.
Marie-Louise Ladegaard Baun, E-poster (short oral presentation)
Variation in transvaginal ultrasound examination rates among Danish GPs and ovarian cancer outcome
We found that among Danish general practicioners (GPs) there is a significant variation in transvaginal ultrasound investigation rates. Women assigned to GPs with high investigation rates had a tendency towards being diagnosed with earlier stages of ovarian cancer compared to women assigned to GPs with low investigation rates. Therefore, a higher overall transvaginal ultrasound investigation rate in Danish general practice could be beneficial for future ovarian cancer patients. This should be investigated in an intervention study.