AU linguist behind new free Danish-Ukrainian dictionary
It took associate professor of linguistics at Aarhus University Peter Bakker just two months to complete a new Danish-Ukrainian dictionary, with assistance from volunteers and a grant from the Aarhus University Research Foundation. The dictionary is intended to help make daily life easier for Ukrainians in Denmark. And demand for the new free dictionary has been so strong that Bagger is now fundraising for a second edition.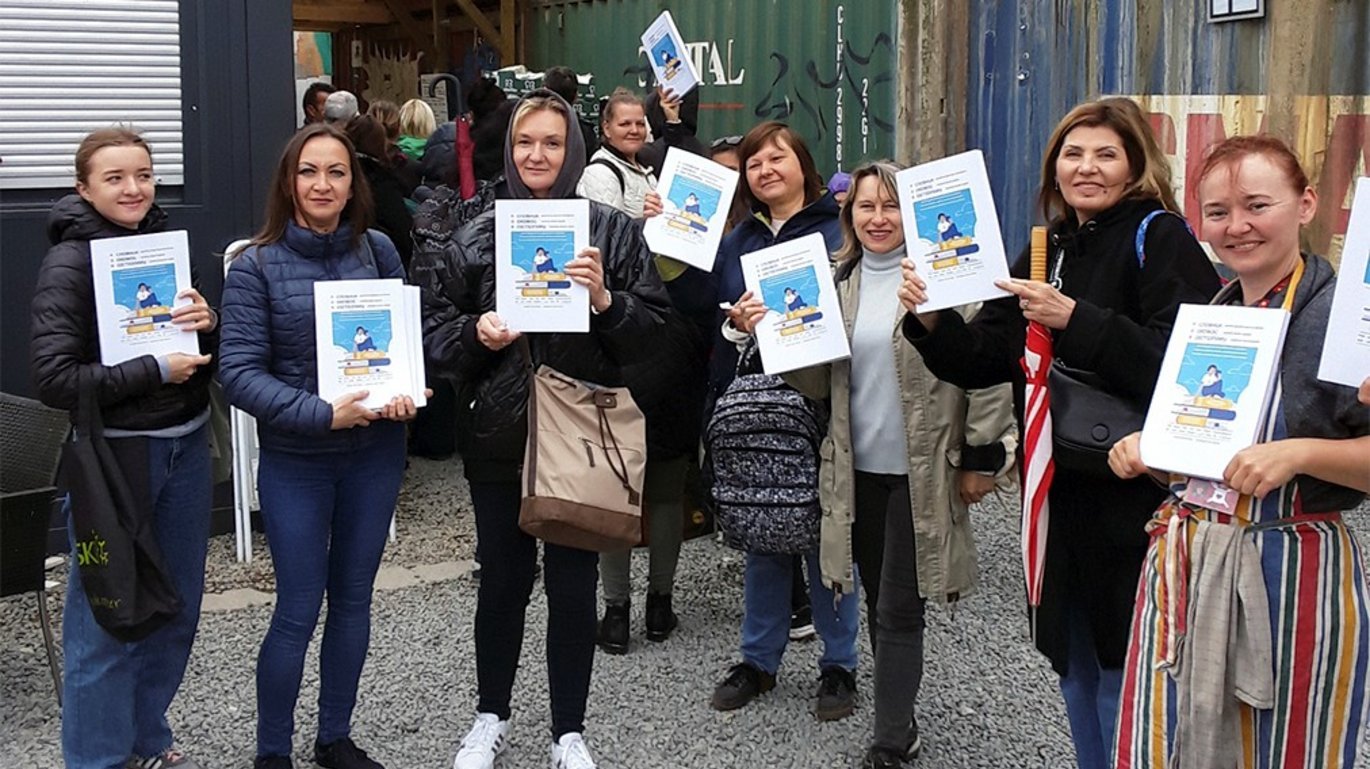 Associate professor Peter Bakker got the idea for the new Danish-Ukrainian dictionary after visiting a friend who was hosting several Ukrainian refugees on his farm.
"Communication between my friend and his Ukrainian lodgers was terrible. They didn't have a common language, and had to resort to gestures when they needed to explain things to each other. So that's when I had the idea that I could contribute, with my background as a linguist," Bakker explained. The new dictionary is intended for Danes and Ukrainians alike. Few Danes speak Ukrainian. And as Bakker explained, few Ukrainians speak English, and they don't speak much Danish yet, either, understandably.
The dictionary, which has just been published, contains the 3000 most common words, based on the frequency list from the Danish Language and Literature Society, as well as translations of sentences used in everyday conversation. The dictionary also includes useful phrases, including a section about the war and the flight to Denmark.
For Bakker, who has spent most of his free time in recent months collecting words, coordinating and planning, it was clear that the dictionary needed to be published in hard copy rather than as a digital app.
"A lot of refugees, particularly older people, are not comfortable with digital tools, and they may not have smartphones with translation apps either." What's more, Google Translate does a really poor job of translating from Danish to Ukrainian," Bakker said.
"The dictionary is an easy, accessible tool for both parties, who have to communicate without a common language. It's easier when there are two people looking, leafing through and pointing out words and sentences and making themselves understood to each other," Bakker said, adding that the dictionary also includes a short guide to using a smartphone to translate between Ukrainian and Danish.
More funding is needed
Peter Bakker doesn't speak Ukrainian himself. To make the project a reality, he enlisted the help of Ukrainian translators, coordinated by Anna Kryvous, who lives in Denmark and has a Master's degree from AU. Colleagues from Aarhus University and the University of Copenhagen also contributed.
"But clearly, the dictionary's not going to be perfect considering the time pressure we were working under," Bakker stressed.
Bakker anticipates that the dictionary will help make interactions between Ukrainian refugees and Danes easier. In any case, it will contribute to lowering the language barrier considerably.
"I hope that the dictionary will be received as a way of welcoming and acknowledging Ukrainians, and I also hope that they'd like to learn some Danish. The books I've handed out so far have been accepted with thanks, and that also makes me incredibly happy."
Johnny Larsen, dean of the Faculty of Arts, was full of praise for Peter Bakker and the volunteers behind the dictionary.
"Quite simply, I admire the commitment and effort the people involved have put into this project. I'm proud that staff and students use their knowledge and free time to help people in need, and I'm convinced that their efforts and idealism contribute to making the bond between our countries even stronger. It will benefit collaboration between Ukraine and Denmark in the future – hopefully a peaceful one soon," said Laursen.
The funding for the first edition of the dictionary came from Aarhus University Research Foundation (AUFF); most of the dictionaries from this printing have already been distributed. Interest in the dictionary is still very strong; orders and inquiries are streaming in, according to Bakker.
If you would like to help make a second edition possible, you can Mobile Pay a contribution to the association BEVAR UKRAINE, which will help both with printing and distribution. If enough funds are raised, another edition will be printed and distributed free of charge. Please write 'slovnyk', 'ordbog' or 'dictionary' in the comments field.
Companies, institutions and private individuals are also welcome to download and print out the dictionary free of charge. The content isn't copyrighted.